OM ENGINEERING
OM Engineering was established in 1991, specializing in the production of construction equipment attachments and recycling systems. It has gained an enviable reputation with the quality and reliability of its products both in Turkey and in the world. And it is continuing to grow every day, keeping the pulse of innovation and development in the sector.
PRODUCTS
OM products are known for their durability and innovation. Our commitment to safety, efficiency and robustness make us the best what we are doing. Thats why OM Engineering is always a reliable partner for you. We keep the quality at highest level and provide the right type of service for our customers needs.
  CONSTRUCTION MACHINERY
We are a leading manufacturer of construction attachments. These attachments are commonly used in the harsh conditions they are directly contact with rocks, gravel and sand. Therefore, we use the best materials because they must be extremely strong. We have developed a reputation to meet these demanding expectations and deliver strong and endurance attachments which these sites require.
RECYCLE
We combined our thirty years of experience with advanced engineering techniques, and we have sealed it with the OM brand which stands for quality and durability. We expanded our product range with recycling facilities and it's components. We continue to be your most reliable supplier in your recycling projects with our professional team and high-tech production system.

Highly qualified, experienced and enthusiastic personnel.
Constantly in search of the most advanced solutions and materials.
With effective planning and production system, we can deliver our orders at the time we promise.
We maintain strong communication before production and after sales, aiming for perfection by paying attention to the feedback.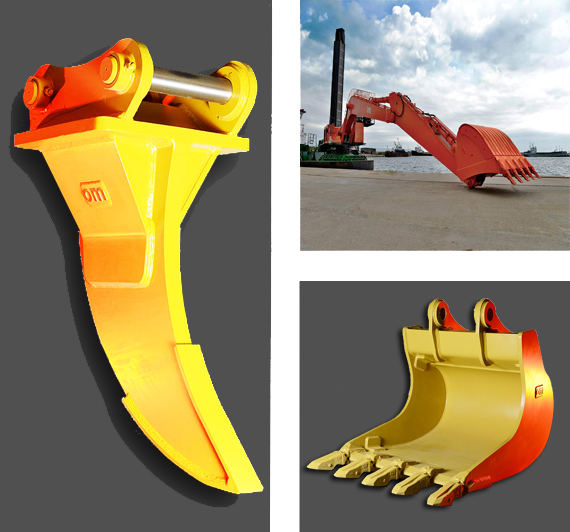 WHY OM ENGINEERING?
EXPERIENCE: We are the most known company of the attachment manufacturing in the world. Besides, we have knowledge and experience on material handling and recycling fields. We are providing the best technical advice and equipment for your project with our professional engineer team.
WIDE RANGE AND CUSTOM MANUFACTURING: Bucket, ripper, fork, quick coupler and etc… All attachments for excavators and wheel loaders along with demolition,material handling and scenning equipments, recycling components, pumping systems. We have wide range solutions for your projects.
QUALITY: We are known for our product quality. We got this reputation because we always use the best material also, we have the experience and engineering to get the job done. Our equipment & attachments are developed for strength and durability. Our customers never doubt that it will long last.
AFTER SALES: Not only before sales, we are listening all your needs and demands after sales. We always support you to enhance maximum performance and productivity.
PERTNERLERİMİZ